Description
Living a trip to the park all year round is like wearing Fresh Watermelon, leaving a refreshing glow. A collar and leash made from recycled water bottles and quality materials that provide strength and safety for your dog.
Details
Quality materials
Collier et laisse en nylon
Collar and leash handle lined with neoprene
Collar buckle equipped with a point locking system for added security
Black chrome clip on the collar for the leash (D-ring)
Secure swivel clip clip and D-ring for hanging accessories on the leash
Tella & Stella™ rubber logo
Design by a Quebec artist
Shipping and easy returns
Nous offrons la livraison gratuite pour toute commande de 30$ ou plus. En achetant ce duo, tu obtiens la livraison gratuite!
For a return please contact us and it will be our pleasure to plan an exchange with you.
What people think of our combos
Avis des clients
06/02/2021
Marie-Sophie L.
Mignon et solide
Adorable collier pour la saison estivale! La solidité et la qualité sont surprenantes.
02/22/2021
Isabelle T.

Canada
Très beau duo
Je suis très satisfaire de mon achat. Produit très joli et de bonne qualité. Il fait super bien à mon chien!!
01/20/2021
Jennifer J.

Canada
J'ADORE!❤️
Super jolie, de bonne qualité et fait de bouteille recyclé = Formidable!
11/30/2020
Eddie D.

Canada
Un look qui se fait remarquer!
Nous sommes très heureux des produits (duo laisse et collier Pastèques) pour notre belle Princesse Leia. Nous avons eu un service après-vente rapide et très satisfaisant lorsque nous nous sommes rendus compte que nous avions choisi la mauvaise grandeur pour le collier. Merci à l'équipe!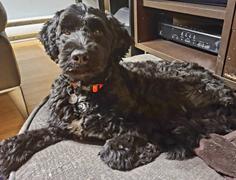 10/13/2020
Kevin G.

Canada
Superbe
super produit, qualité et bon prix, produit écologique en plus ;)
10/03/2020
Audrey

Canada
Collier et laisse de qualités
J'aime vraiment la couleur et les motifs. J'aime vraiment que ce soit en néoprène, ça sèche bien et vite, donc pas d'odeurs! Il se lave super bien
10/03/2020
Jade

Canada
J'aime bien le produit
En général j'aime bien les produits, ils sont punchés, refraichissants et bien solide ! C'est le genre de collier/laisse que j'utilise un peu plus pour mes quelques marches en ville.