Description
A simple design, but with a little twist. A collar and a leash made of quality materials, resistant, safe and perfect for your walks with your dog.
Details
Quality materials
Collier et laisse en nylon
Collar and leash handle lined with neoprene
Collar buckle equipped with a point locking system for added security
Black chrome clip on the collar for the leash (D-ring)
Secure swivel clip clip and D-ring for hanging accessories on the leash
Tella & Stella™ rubber logo
Design by a Quebec artist
Shipping and easy returns
Nous offrons la livraison gratuite pour toute commande de 35$ ou plus. En achetant ce duo, tu obtiens la livraison gratuite!
For a return please contact us and it will be our pleasure to plan an exchange with you.
What people think of our combos
Avis des clients
09/03/2021
Hélène B.

Canada
Duo pour chien
Le produit est très apprécié et très beau. Merci
09/03/2021
Helene J.

Canada
Wow!!
J'adore tellement les produits Tella & Stella ! Le choix de couleurs/motifs est incroyable mais le mieux, c'est le confort des colliers et des laisses. La doublure fait toute la différence. Mon bouledogue français a beaucoup de plis dans son cou et je ne crains jamais que le collier l'agace contrairement à d'autres marques. Je suis vendue a la marque je n'achète que ces produits maintenant.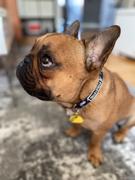 09/02/2021
Sylvain L.

Canada
Titre de la ***** ????????
Très bonne qualité. Par contre , j'aimerais avoir plus de choix dans la section des harnais pour avoir les ensembles au complet merci
09/02/2021
Mélanie L.

Canada
Entreprise Québécoise géniale
On adore nos items!! La qualité et l'originalité fond en sorte que votre marque se distingue du lot!
09/02/2021
Annie C.

Canada
Excellente qualité Livraison rapide
09/02/2021
sonia d.

Canada
Belle qualité de produit! :)
Agréablement surprise de la qualité. Très beau produit. On adore!
09/02/2021
Mélia L.

Canada
08/27/2021
Abigail S.

Canada
The perfect duo for "Peaches" the puppy
I am beyond impressed with the quality of this collar and leash. The colour remains as vibrant as when I open the package. The seams are strong, as it the latch clasp. I will absolutely be purchasing again as our puppy grows!
08/04/2021
Kathleen M.

Canada
08/03/2021
Denise L.

Canada
Les dragons
Très satisfaite
08/03/2021
Suzie G.

Canada
Très bon produit
J'ai acheter le kit à mes deux chiens et je l'es adore , belle qualité
08/03/2021
Bouchra B.

Canada
?
Très satisfaite! Merci et au plaisir pour prochainement
08/03/2021
Sophie P.

Canada
08/03/2021
Linda F.

Canada
08/03/2021
Frederic O.

Canada
Shark
On adore le collier! Parfait pour notre petit bouledog français!